25 years at the helm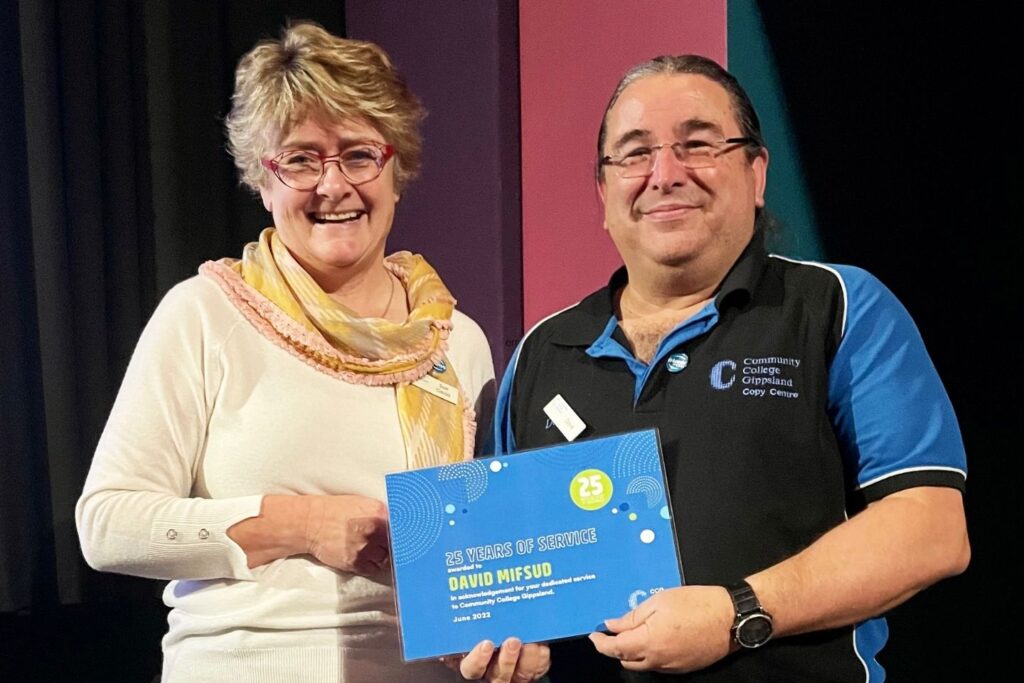 For Dave Mifsud, the CCG Copy Centre has become his second home. Understandably so, with more than 25 years spent commanding the copiers – 15 of those sporting his signature ponytail. But Dave is more than a piece of the furniture. He is a stalwart of the Warragul community.
It is safe to say that the customers ADORE Dave, with the capitalization necessary to demonstrate just how deep and widespread their devotion is.
"Nothing is ever a bother to you," they say. "It's always a pleasure working with you." And, "Dave is an amazing problem solver. I always feel welcome going in there – it's almost like an extended family!"
Dave's time with the Copy Centre goes back to when it was the print room of our organisation when we employed just 5 people. Today, CCG has around 95 staff and the old print room has grown from Warragul's best-kept secret to an industrious storefront on Smith Street.
"A lot has changed in 25 years!" says Dave. "The evolution of technology has been immense. We have moved from a little black and white copier to a full colour digital printing set up.
"We used to print publications for schools. Now, it could be anything from a funeral booklet celebrating someone's life to house plans, legal papers, short stories, annual reports, cards and invitations – you name it, we print it."
Throughout the COVID period, the Copy Centre team was there for the community, supporting the workforce who was quite suddenly and unexpectedly working from home.
"Very few of us have a printer or scanner at home these days," Dave mused. "And while many things are digital now, not everyone knows how to get something off their smart phone and onto paper. We've been an important support for older people."
For Dave, the job is still rewarding even after 25 years at the helm.
"There is something about being able to see a job through to holding the finished product in your hands," says Dave. "There is such satisfaction in handing that over to the customer and getting the instant feedback of 'that looks even better than I imagined!'.
Friends of CCG
More articles from Edition 3 of Friends of CCG.