Students flourish with community seed program
The Friends of the CCG 'Hands On Herbs' program is a fresh take on a college-industry partnership and it's already growing our horticulture student's confidence and skills. In partnership with commercial grower Freshleaf, herbs are donated to the college, then grown and packaged by our students. The plants are then available for purchase, with all proceeds supporting students experiencing financial hardship.
CCG Horticulture Trainer, Tony Bundock, says the program draws together all parties in a common goal.
"Our students can get their hands dirty on a project that takes them on a growing journey, from caring for the small seedlings to harvesting a mature plant. Along the way, students observe plant growth and monitor for signs of pest and disease, ready to provide suitable solutions. They get to use the college's excellent facilities, our commercial greenhouses, as they build their skills and gain valuable, practical experience.
"Knowing that funds raised from the sale of these herbs are ploughed back into our philanthropy program to help some of our more vulnerable students just makes the project even more worthwhile."
How does our garden grow?
The plants are cultivated in the college's Nutrient Film Technique, a growing system that passes a constant flow of sterilised, nutrient-rich water to the plant root. The college greenhouses provide the perfect growing environment but students still visually monitor for infestation and use 'sticky traps' to capture any pests. Herbs grown include basil, coriander, sage, chives and parsley.
"An important aspect of student learning is attention to detail. Plants are living things and they need to be able to 'read' the signs that a plant is showing in order to provide for its needs. This program is the perfect way to apply that technique. Instant and hands-on learning."
Tony believes the most satisfying way to understand the benefits of the program is getting to eat the results!
"It's rewarding to know that our community gets to sample our work. Who doesn't love fresh, locally-grown herbs? My favourite is basil and I can't go past a homemade pizza with that aromatic herb sprinkled on top."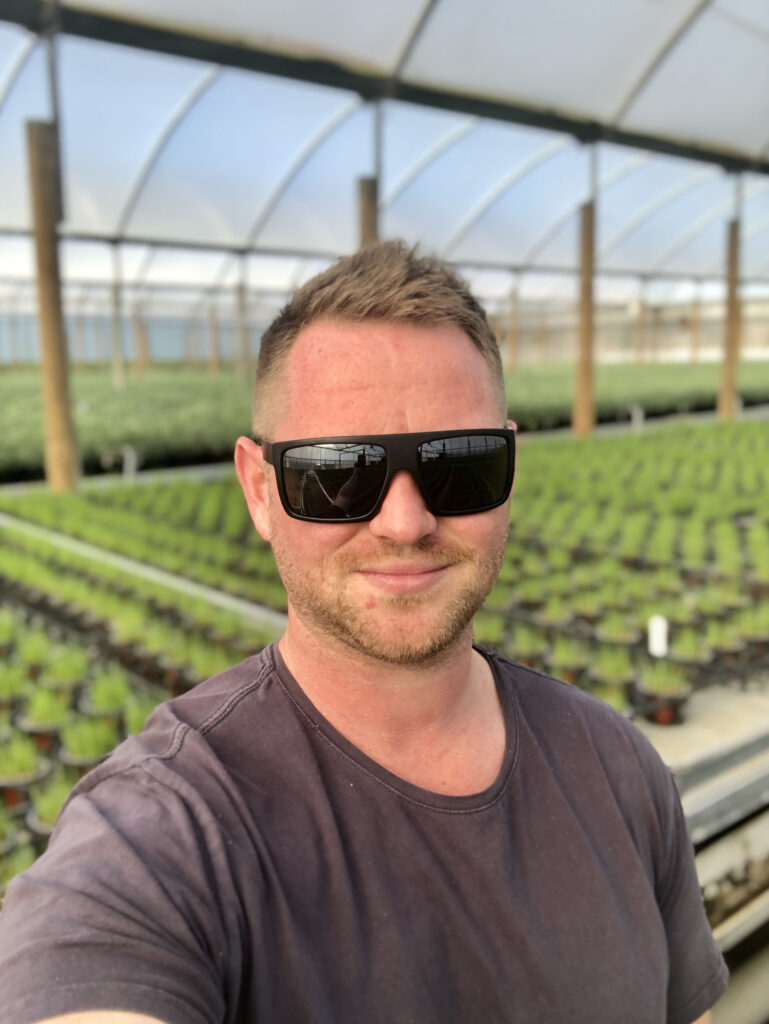 David McMillan (pictured) is Head Horticulturalist with Freshleaf, managing three Victorian facilities to produce high-quality fresh leafy greens all year round. Freshleaf has been operating for the past 12 years, starting at Clyde and growing to include farms at Devon Meadows, Officer and Wondecla in Far North Queensland. Initially supplying restaurants and the market with fresh leafy greens, the company now has a long-standing relationship with Coles.
"All of our products are grown hydroponically; some herbs are grown in low technology polytunnels, some are grown in high technology, fully automated glasshouses. Herbs have become very popular in the last five to ten years. Shows like MasterChef have really shown how versatile herbs are in everyday cooking. Basil and coriander are the top sellers.
"We cannot cultivate products as cheap as conventional field growers, but what we can offer is a consistent, high-quality product 12 months of the year," David explains.
As with nurturing plants, nurturing talent from the very start of a student's career, is about feeding the roots, seeding the ideas and ensuring the right conditions for growth.
"That's what the community partnership with CCG is building. When Tony Bundock approached me, I was inspired by his vision and happy to help in any way. CCG and Freshleaf share a passion for developing the next generation of emerging growers. There is a shortage of skilled growers nationwide. As the population continues to grow, the demand for fresh, sustainably grown produce increases. With this partnership, CCG & Freshleaf can work together offering theory-based knowledge mixed with practical hands-on experience to young people in South East Victoria," David says.
Completing the cycle of student-to-workplace, David is himself an alumnus of CCG, completing his Certificate III in Production Horticulture in 2009, and has some sage advice for the current crop of trainees.
"I was doing an apprenticeship at the time so I was eager to learn as much as I could. I remember having some great teachers, some that made a great impact on me very early on in my career. It's important to love what you do, be passionate about everything you do. Work takes up a huge part of your life, so enjoy every day, and you will be successful.
Freshleaf thrives on innovation
We are always investing in new technologies to remain the leaders in the leafy greens industry. For example, we have just invested in a 4000m2 state-of-the-art greenhouse with a fully automated moving gully system. Using this technology lets us maximise the growing area in the greenhouse to 91% by not having any walkways in the greenhouse. The crop is planted at one end of the greenhouse and moves throughout its lifecycle towards the end of the greenhouse where the harvesting area is. This increases efficiency by 50% by having the crop come to you.
Got a taste for something fresh?
If this story has you salivating for tender, tasty produce, you can buy fresh herbs and plants at the CCG Plant Sale. To be held at the Warragul Campus on Saturday 7 May (10am – 2pm), there will be a range of herbs, as well as pot plants suitable for indoors, and shrubs that the students have produced during the course of their learning. Your purchase not only provides great value for money, but also contributes to the college's philanthropic fund, used to assist students who may struggle with fee-paying and other expenses.
We'd love to see you there!
If this story has spiced up your interest in learning more about horticulture, contact us on 5622 6000 for more information.
Friends of CCG
More articles from Edition 2 of Friends of CCG.