New Outdoor Sensory Space in Reach
We are very close to funding a new Outdoor Sensory Space. Only 200 x $20 donations are needed to reach our target.
A new Outdoor Sensory Space will provide teaching staff an additional resource for responding to students in times of anxiety or distress and allow students to:
Be empowered to take control when everything seems out of control
Have a safe space to retreat to outside of the classroom
Self-regulate and self-soothe
Connect with nature
Engage in physical activity
The Outdoor Sensory Space concept was proposed in 2022 by Evie Tsandillis, Learning Support Officer from our Leongatha campus. Evie believes that developing these spaces would be an asset to the students she works with. With both Leongatha and Pakenham campuses preparing for a major redevelopment phase this year, ECG Secondary College Principal, Kate Grandin proposed the first space be designed for the Warragul campus. Kate championed the design for the space recognising the need and benefits to both students and her staff.
With a $10,000 aim for delivering the project at Warragul, newly appointed Business Development Manager Den Lim, has taken on the project. Den has workshopped the concept with students and staff to design a space that we believe will bring transformation to classrooms and bring new and purposeful meaning to the identified location.
Our 2022 annual appeal edged us closer to realising a new Outdoor Sensory Space to respond to students' anxiety or distress. Community College Gippsland Philanthropic Fund Committee thanks all appeal donors. We need only 200 x $20 donations to fund this project.
Donate now
As Community College Gippsland is registered with the Australian Tax Office as a Deductible Gift Recipient, all donations of $2 or more can be considered tax-deductible donations.
If you have any questions, phone us on (03) 5622 6000, or email info@ccg.asn.au
We encourage you to share this appeal with family, friends or others who can see the power in this important project.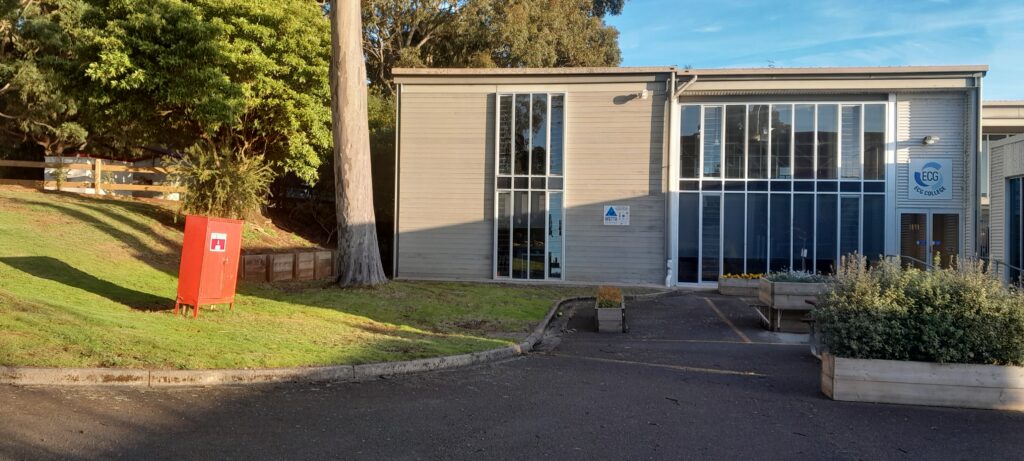 Proposed space: We recognise that mental wellbeing is a life journey, many students bravely face adversities and at times the classroom, or life issues, in general, can become overwhelming. This space will be transformed into a place to retreat to or run to when they need time out.