2022 Student Awards
Tuesday 29 November was a night of celebration, with students from ECG Secondary College and Community College Gippsland coming together in recognition of outstanding achievement.
Thirteen student awards were announced in eight categories, followed by the presentation of the CCG Community Builder Award.
ECG Secondary College
Overall Achievement
Kasey Dunn
Leongatha Campus
Kasey is an exceptional young person who, in spite of being faced with great adversity this year, has completed both her Intermediate and Senior VCAL certificates in 2022. This is an enormous achievement, and a great credit to her character. In addition to her schooling effort, Kasey is dedicated to helping others. She has taken on an ambassador role with Headspace, and employment as a nanny while completing her studies. Kasey has been a very valuable member of our school and a positive role model for other students in showing what is possible.
Photo: ECG College Lead Teacher, John Barrow and student Kasey Dunn. This award was sponsored by TAFE Gippsland.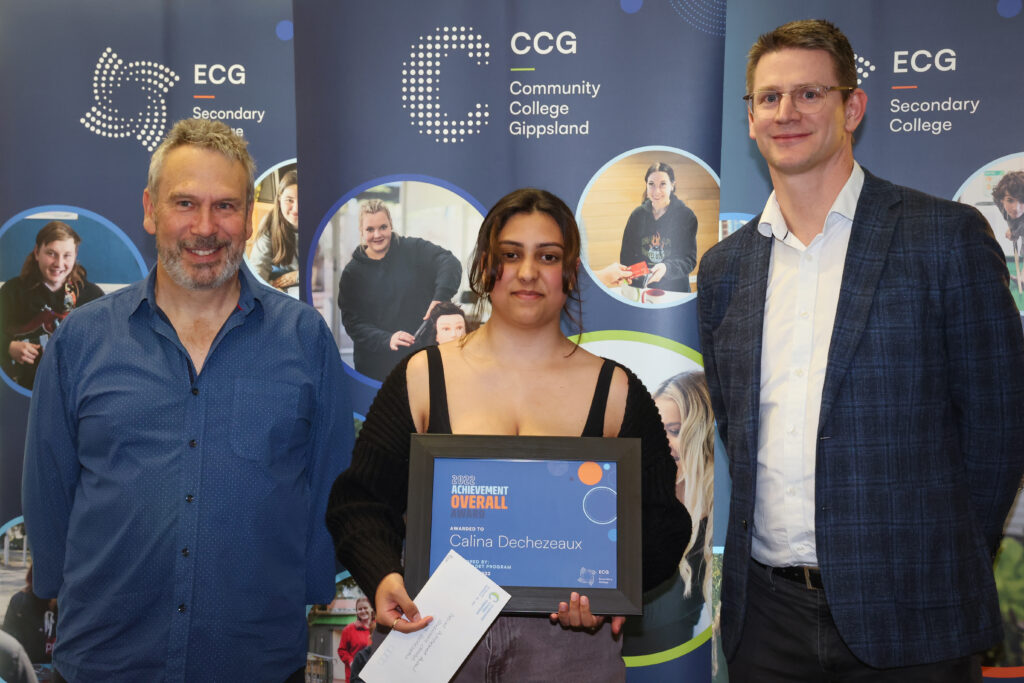 Calina Dechezeaux
Pakenham Campus
Calina has overcome significant challenges in her life to not only complete her Senior VCAL, but achieve a truly excellent result. Her calm, positive and friendly demeanor and outstanding contributions to the school community have made Calina a joy to have in the school. With her commitment to achieving her goals and never give up attitude, we know that she will be successful at all that she turns her hand to. We can't wait to see what the next chapter has in store.
Photo: ECG College Lead Teacher, John Barrow, student Calina Dechezeaux, and 2021-2022 Board Cadet Jared Slater. This award was sponsored by the CCG Board Cadet Program.
Jessie Francis
Warragul Campus
Jessie has shown great persistence in his schooling. He has overcome significant barriers to pursue his education, including huge travel distances, a lack of public transport and Internet coverage – so critical for student success in recent years. In spite of these challenges, Jessie has always worked to the best of his ability, and shown kindness, respect and acceptance to all in the school. It has been a pleasure to see Jessie grow in confidence.
This award was sponsored by Gippsland Forest Masonic Lodge
Attendance and Engagement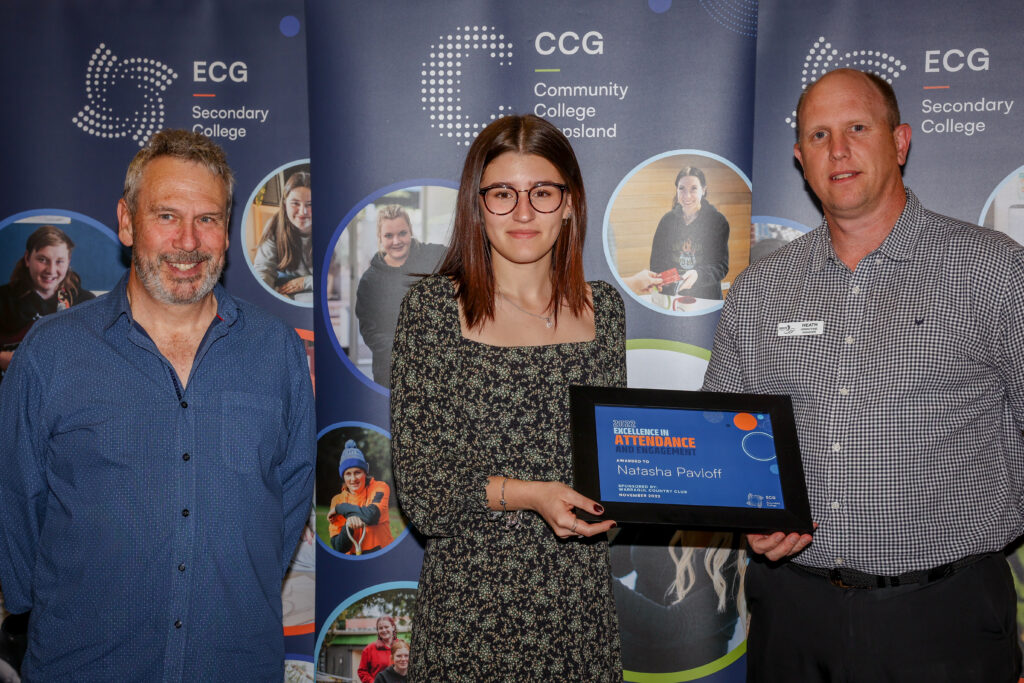 Natasha Pavloff
Warragul Campus
Since commencing with ECG, Tash has shown incredible consistency in her attendance, participating enthusiastically even when she is the only student in the classroom. Her engagement is exemplary, and in group projects, Tash has paved the way for other students, encouraging and motivating them to get involved. This year, Tash commenced a Structured Workplace Learning Placement at Little Saints Early Learning Centre. The staff were so impressed with her performance and initiative that she will continue on to a school-based traineeship there in 2023.
Photo: ECG College Lead Teacher, John Barrow, student Natasha Pavloff and award sponsor, Heath Jones of Warragul Country Club.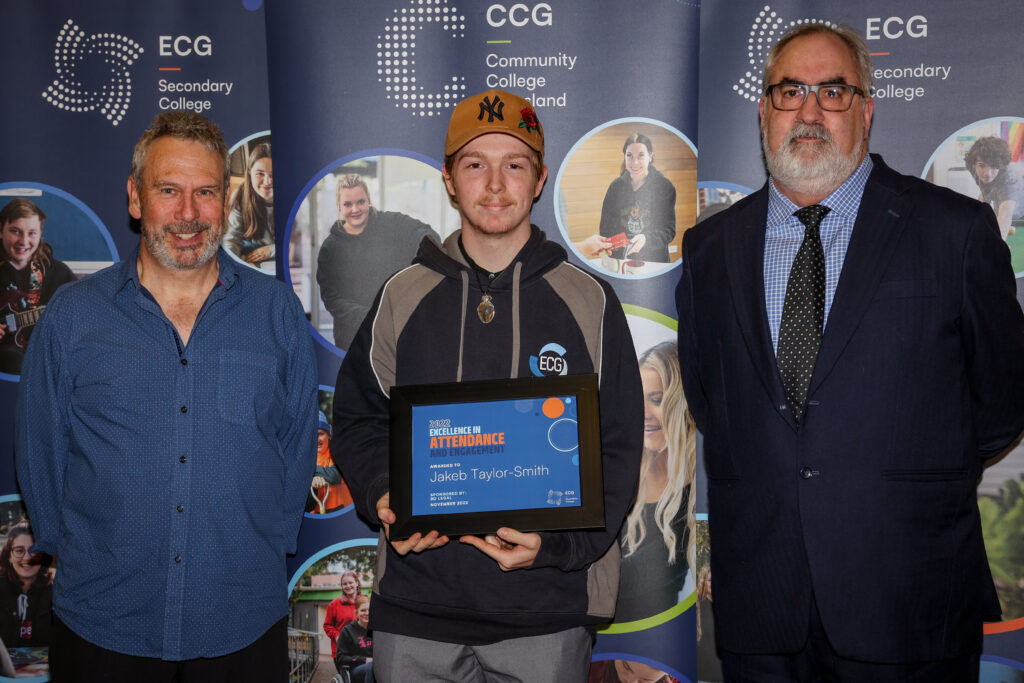 Jakeb Taylor-Smith
Leongatha Campus
Jake is the kind of student who makes our school a better place. He not only participates wholeheartedly himself, but also creates a safe space for others to step outside of their comfort zones and join in on the activities. Jake will always help out anyone in need, and the first to provide a hand when needed. In his time at ECG, he has consistently achieved his goals, finishing this year with his Senior VCAL, driver's licence and employment.
Photo: ECG College Lead Teacher, John Barrow, student Jakeb Taylor-Smith and award sponsor, Chris Drennen of BD Legal.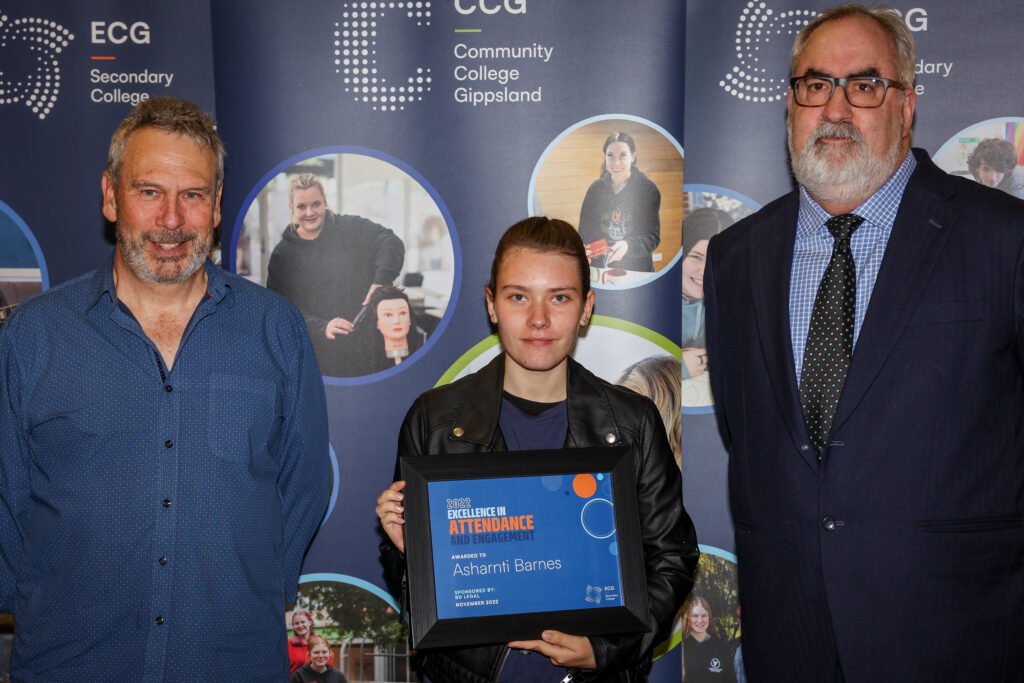 Asharnti Barnes
Pakenham Campus
Of all the students at Pakenham Campus, Asharnti has been a stand-out in her commitment to learning. She is not just on time, but early to class. On the very rare occasion that her attendance was disrupted, Asharnti would always let the team know why she could not be there. Her dedication and professional approach has served her well not only in the classroom, but also at Limebox Café, where Asharnti has been completing a school-based apprenticeship. Asharnti is friendly, passionate, accepting and an excellent baker. The College doesn't feel the same when she is not around.
Photo: ECG College Lead Teacher, John Barrow, student Asharnti Barnes and award sponsor, Chris Drennen of BD Legal.
Most Improved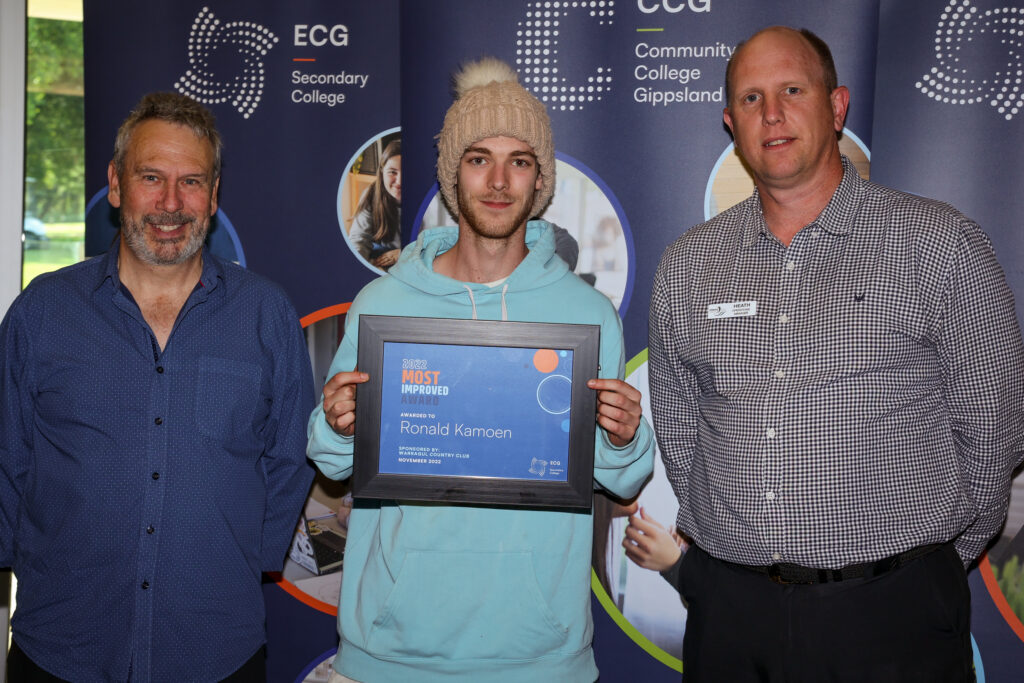 Ronald Kamoen
Warragul Campus
Ronnie is an exceptional young person who has overcome the odds to create great opportunity in his life. In order to attend school at ECG, Ronnie has needed to live independently from his parents to overcome the barrier of distance. This has involved periods of couch surfing and navigating adult milestones to access the support he needed. In spite of these huge challenges, Ronnie is an incredibly optimistic and generous person who continuously makes the world a better place through his actions. He has raised funds for charity, organised a beach clean-up and taken on a Structured Workplace Learning Placement with Berry Street. The team was so impressed that they are looking for opportunities to employ him next year. We are so proud of you, Ronnie.
Photo: ECG College Lead Teacher, John Barrow, student Ronald Kamoen and award sponsor, Heath Jones of Warragul Country Club.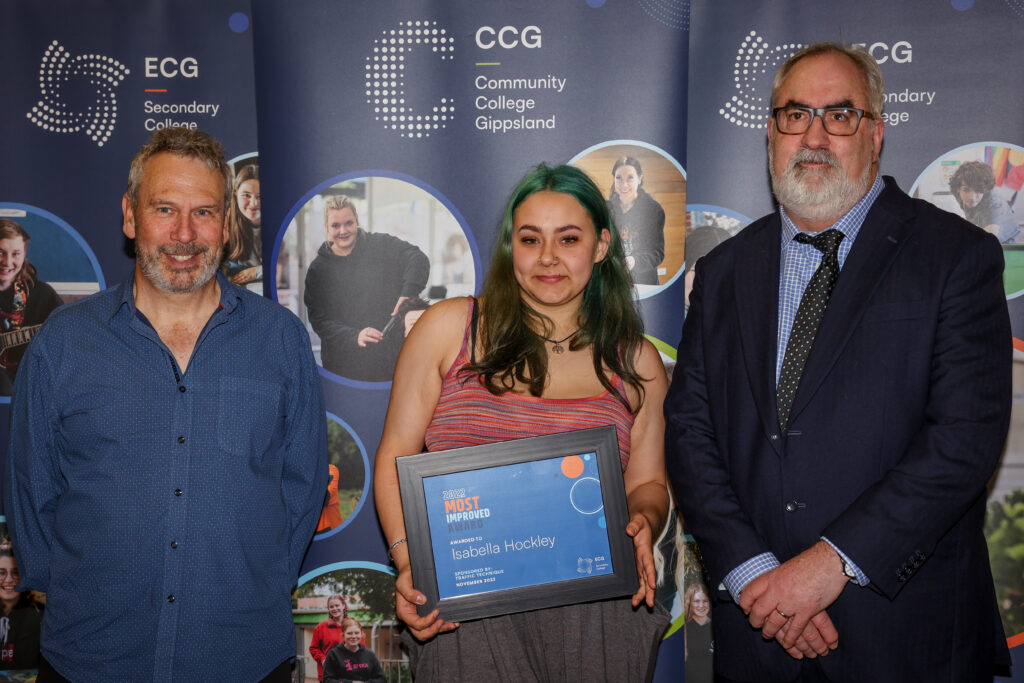 Isabella Hockley
Leongatha Campus
When Bella first came to ECG, her mental health made attending and engaging difficult. Over time, with the support of the ECG team, Bella has made enormous progress against her personal and academic goals. She has gone from being unable to attend, to attending with a support person, to attending independently. This demonstrates enormous personal growth and a willingness to move beyond her comfort zone. It has been a joy to watch Bella bloom and become fully engaged in the classroom.
Photo: ECG College Lead Teacher, John Barrow, student Isabella Hockley and Chris Drennen, presenting on behalf of award sponsor Traffic Technique.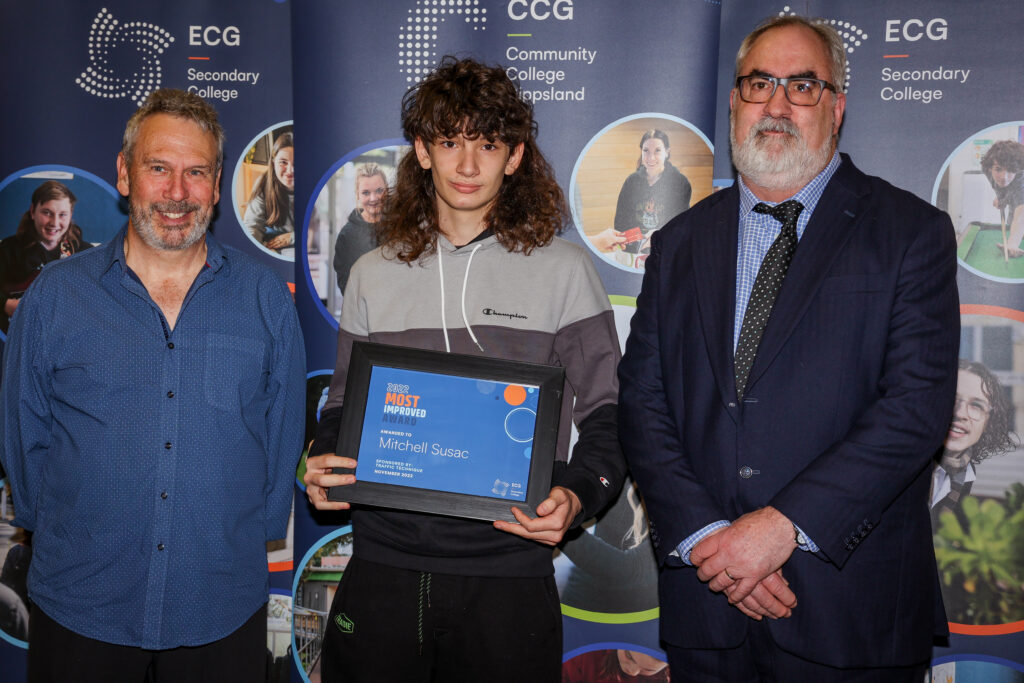 Mitchell Susac
Pakenham Campus
In just two years, Mitchell has evolved enormously at ECG. He has overcome personal challenges to grow into a student who demonstrates maturity, commitment and initiative. Mitchell has progressed from a modified timetable to a full-time study load and taken on new academic goals in the subjects he finds most difficult. We have been particularly impressed with the way that Michell has proactively assessed his learning and asked for specific tasks that will bring him closer to his aspiration of working full-time in mechanics. We know he can do anything he puts his mind to.
Photo: ECG College Lead Teacher, John Barrow, student Mitchell Susac and Chris Drennen, presenting on behalf of award sponsor Traffic Technique.
Baw Baw Shire Education Sponsorship Award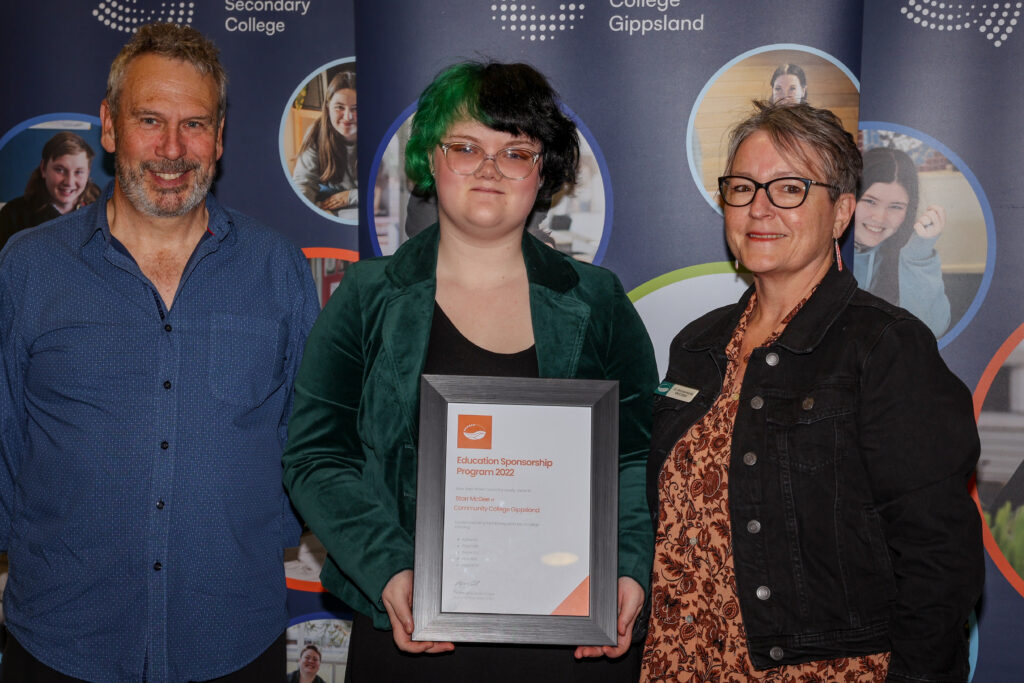 Starr McGee
Adversity and setbacks are part of life, but it is how we respond to those setbacks that sets us apart. This year, Starr McGee broke her ankle – an event that would have meant a major setback for many students. But for Starr, it brought out her determination and strength of character.
Starr demonstrates all of the skills and attributes of leadership and works with intention and purpose. When a challenge arises, she does not get overwhelmed, but remains focused on the goal, readjusting her timeline and drawing others in for support. She is also a great motivator and inspiration for her fellow students.
Starr has a clear career path and has enrolled in a Creative Writing course next year with the plan to pursue a career in teaching. She is a very worthy recipient of the Baw Baw Shire award and we are so proud of the person she has become.
Photo: ECG College Lead Teacher, John Barrow, student Starr McGee and Mayor McCabe of Baw Baw Shire Council.
CCG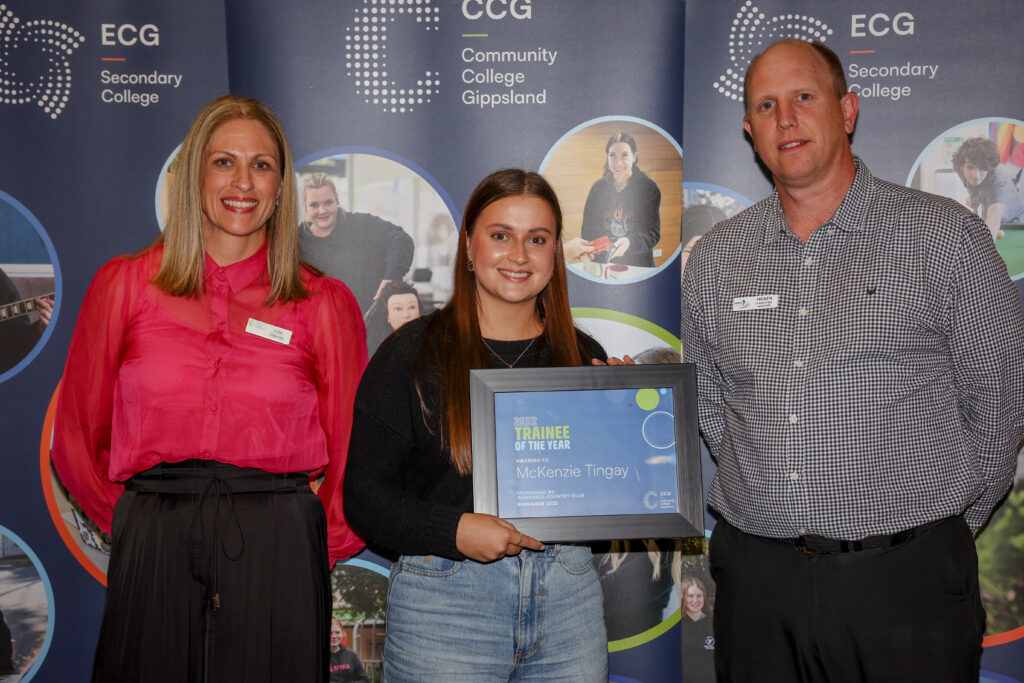 Trainee of the Year
McKenzie Tingay
Certificate III in School-Based Education Support
McKenzie has been totally dedicated to her course since the start of the year. Her attitude towards learning is exceptional, and she is a great influence on other trainees in her workplace. She consistently goes above and beyond when demonstrating her practical skills. Her written work is detailed and considered, with evidence of further research.
In the workplace, she is friendly, approachable, adaptable, respectful and patient. It is no surprise that her teachers enjoy the tone she brings to the classroom, supporting the students with a kind but firm approach. We know that McKenzie will go far, and positively change many lives along the way.
Photo: CCG Director of Education and Training, Julie Dennis, student McKenzie Tingay and award sponsor, Heath Jones of Warragul Country Club.
Classroom Student of the Year
Alison Hardy
Certificate III in Early Childhood Education and Care
Alison joined CCG as a mature-age student, taking a leap of faith to follow her life-long passion for nurturing and educating children. She demonstrated great dedication to this pursuit, leaving her secure retail position to take on a casual role at Waterford Rise Early Learning Centre. Her work ethic, passion and ability to build relationships with the children saw her quickly become a valued member of the team.
Alison managed to complete her classes, assessments and placements while working nearly every day. She also impressed our trainers with her interest in authentically embedding the Aboriginal and Torres Strait Islander cultures into children's learning programs – we know any service lucky enough to have Alison will benefit greatly from her passion.
VETDSS Student of the Year
Kayla Hardy
Certificate II in Salon Assistant
Kayla came to CCG one day per week as part of her secondary school program. She was very passionate about hairdressing and eager to learn, always seeking constructive feedback about how she could improve her skills. Kayla was a great contributor to class discussions and consistently went above and beyond to help others.
She absolutely thrived in the CCG Salon and always had a positive impact in the classroom. In a testament to her capabilities, Kayla has now taken up an apprenticeship with a local salon in Warragul where she will flourish with her natural talent and flair for hairdressing.