2022 Community Builder Award Winner
At CCG, we believe that an educated community is a strong community. We celebrate this sentiment, and the life of former Board Member Terrylene Marks, with the annual presentation of the Community Builder Award.
Introduced by the Board of Community College Gippsland, this prestigious award honours Terry's outstanding community building work and her tireless promotion of education for all in her community. It is a tribute to Terry's dedication to supporting her community to thrive through learning – a passion she pursued right up to her passing in 2021.
It is awarded to an individual or group who has made a significant contribution to the community of Community College Gippsland, or the broader community, and celebrates those who value education and equity for all.
The 2022 winner of the Community Builder Award is Luana Brock, who perfectly personifies the transformative power of education for all.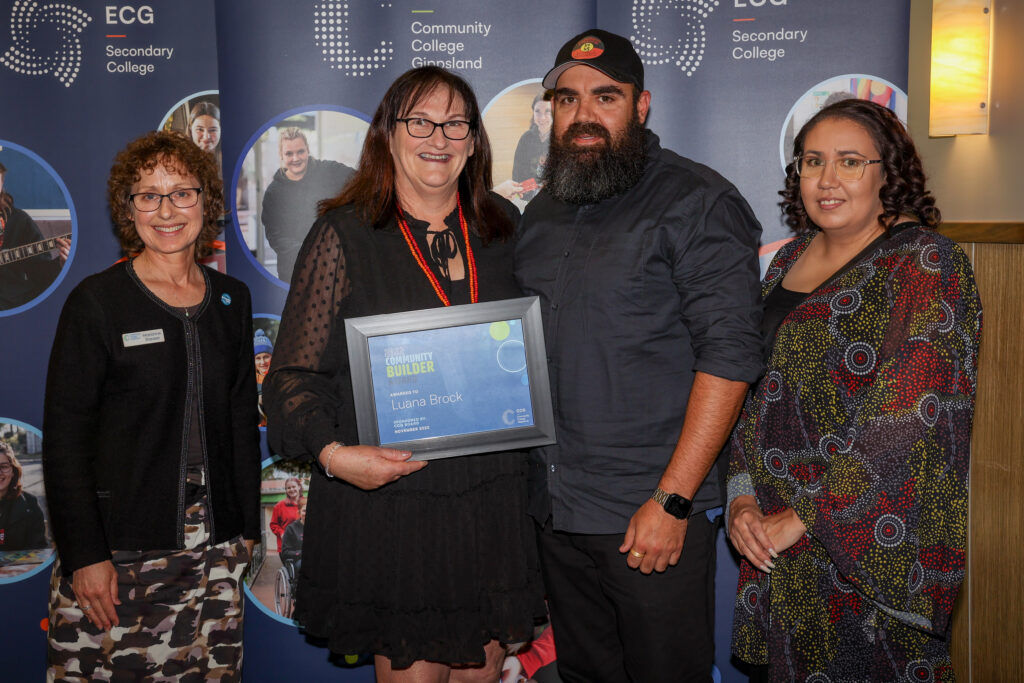 Luana has made significant contributions to both CCG and the broader community.
In her work with CCG, she ensures that our Learn Local program is inclusive and inspiring. She helps to develop foundation level courses that help people build skills for work and life in a friendly and supportive environment.
Beyond the classroom she volunteers her time to create opportunities for people who are often excluded from participation. She works with a local disability service to provide theatre classes for people with disabilities, as well as coordinating the Drouin and District Netball All Abilities Association (learn more about Luana's involvement in All Abilities Netball: watch the Better Homes and Garden's feature on Luana) .
Through these volunteer roles, Luana has not only impacted the lives of the participants, but also their families and the community at large. Her contribution shows the enormous value in embracing people for who they are and believing in their potential. Her work has helped to create a more inclusive, equitable, healthy and joyful community.