SHB20216 Certificate II in Salon Assistant
VDSS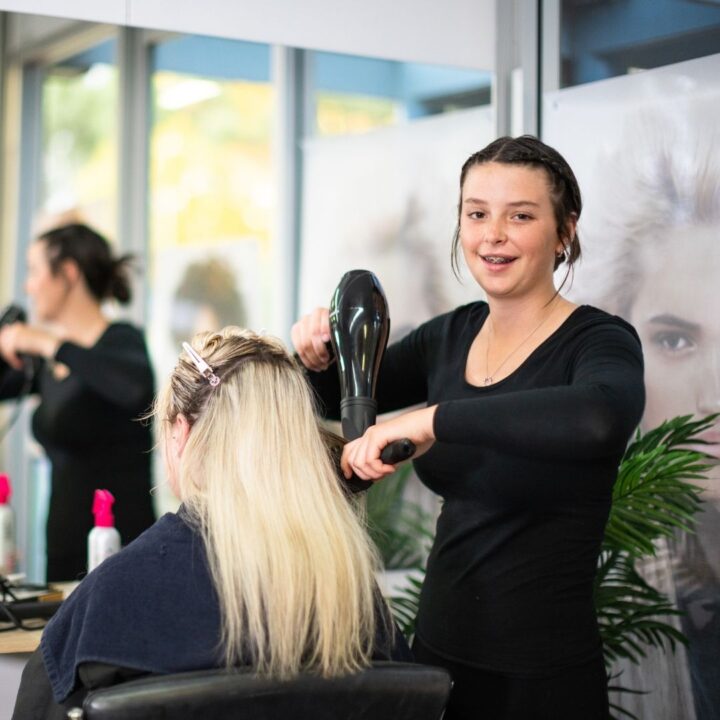 Be a cut above the rest with this introduction to hairdressing. In this course, you will be introduced to the world of professional hair care and styling, guided by a professional hairdresser.
You will develop your skills in our fully operational training salons, where you will learn how to blow wave, set hair, create braids and apply colours. You will also learn important skills for retail, such as effective communication, processing financial transactions and delivering great customer service – the key skills employers look for.
Please wear closed-toe shoes. No torn jeans or leggings.
A basic kit will be provided but you are also welcome to bring your own equipment and products to use.
Try out a career while you are still in school. Get a head start with hands-on experience AND a nationally recognised qualification!
You will study:
SHBXIND001 Comply with organisational requirements within a personal services environment
BSBWHS201 Contribute to health and safety of self and others
SHBHIND001 Maintain and organise tools, equipment and work areas
SHBHBAS002 Provide head, neck and shoulder massages for relaxation
SHBHBAS001 Provide shampoo and basin services
SHBXCCS003 Greet and prepare clients for salon services
SHBHDES001 Dry hair to shape
SHBHDES002 Braid hair
SHBHCLS001 Apply hair colour products
SHBXCCS001 Conduct salon financial transactions
SHBXIND002 Communicate as part of a salon team
SHBHIND002 Research and use hairdressing industry information
You need to opt into VDSS through your school. Chat to your careers counsellor, pathways advisor or VDSS coordinator to learn more.
To learn more, schools can phone Gordon Talty, VDSS Coordinator, on 0417 607 818.